The following Metaverse coins are worth watching this year and they are all currently trading below $1 per coin: RFOX, HERO, BLOK, EPIK and ATLAS.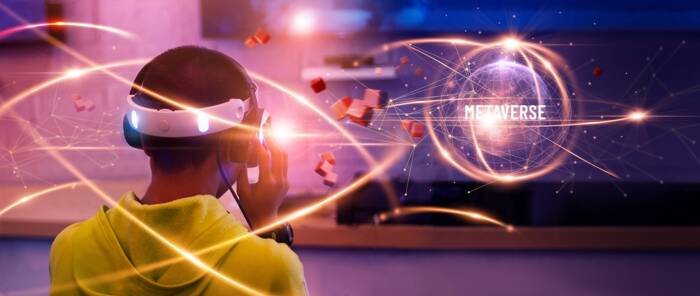 The Metaverse was one of the biggest and hottest trends in cryptocurrency last year. There were a number of projects centered on the Metaverse last year that attracted investor attention.
However, Metaverse projects will dominate the headlines in 2022 because of the new developments they are bringing.
This post examines the five most exciting Metaverse coins below $1 to keep an eye on in 2022. We will examine how the projects are developing and why you should keep track of them.
How does the Metaverse work?
The metaverse can best be described as a persistent, online, 3D universe comprising multiple virtual spaces. It is considered by many as a future iteration of the internet as it will allow users to meet, work, game, and socialize in the 3D spaces.
The metaverse is driven by augmented reality, with the user controlling a character or an avatar. With the metaverse, you can conduct your work meetings virtually and feel like you were physically present.
You can also do a wide range of things, including playing blockchain-based games and many more. Cryptocurrencies have become very important to the metaverse space. Cryptos serve as utility tokens in the metaverse, while the nonfungible tokens (NFTs) are the virtual collectibles.
These are the five best Metaverse coins under $1
The metaverse is still in its early days, but numerous cryptocurrency projects are now focusing their attention on this space. Decentraland, The Sandbox, and Axie Infinity are some of the leading names in the metaverse space. However, we have some projects that are relatively unknown but have huge potential. Here are the top five metaverse coins that are currently trading below $1.
BLOK (Bloktopia)
Bloktopia is a decentralized metaverse built and backed by Polygon, one of the leading blockchains in the world. Bloktopia aims to provide an unprecedented VR experience for the crypto community, bringing users together all in one immersive and engaging environment.
It is one of the must-watch metaverse projects in 2022 because of its strong backing. Bloktopia has attracted investors such as Animoca Brands. Leading crypto companies including KuCoin, CoinMarketCap, and Coingecko already have their virtual offices within Bloktopia.
Similar to other leading metaverse projects, Bloktopia offers a marketplace that allows users to buy BLOK real estate using an NFT mechanism.
BLOK is currently trading at $0.04265299, down by more than 74% from the all-time high of $0.178281 it achieved on October 31, 2021. Despite its recent decline, BLOK is still up by more than 450% from its all-time low of $0.00757922. BLOK has a market cap of $353 million.
HERO (Meta Hero)
Meta Hero describes itself as the gateway to the metaverse. The project intends to use Ultra-HD photogrammetric scanning technology to bring on the next 10 million new users to cryptocurrency.
Meta Hero partnered with Wolf Studio, a leader in the 3D scanning world, to work on its project. The team's introduction of meta scanners in the metaverse creates numerous use cases like 3D printing, scanning network and in-game character creation.
The Meta Hero team has already launched its 4K HD scanners but is currently working on upgrading to 16K Ultra-HD. HERO is currently trading at $0.111673, down by 55% from the all-time high of $0.252021 it achieved on December 2, 2021.
Despite its recent bearish performance, HERO is up by more than 1,900% from the all-time low price of $0.00537031. HERO has a market cap of $572 million.
EPIK (Epik Prime)
EPIK Prime is an NFT platform working with AAA gaming companies and giant entertainment IP and brands to create in-game NFT goods and marketplaces. Epik differs from the other projects on this list because it helps businesses license and produce NFTs and immersive blockchain-powered in-game experiences.
The EPIK Prime team is considered one of the industry leaders in terms of empowering early-stage blockchain games. It helps these projects gain mainstream adoption.
EPIK is currently trading at $0.282311, down by 67% from its all-time high of $0.865706, which was attained on November 17, 2021. However, EPIK is up by more than 230% from its all-time low price of $0.085736. EPIK's current market cap is around $66 million.
ATLAS (Star Atlas)
Star Atlas is regarded as one of the gems in the metaverse space. It is a Solana-powered metaverse game with a dual token economy.
The team seeks to combine blockchain, real-time graphics, multiplayer video games, and decentralized financial technologies to ensure that its game is one of the best in the cryptocurrency space.
Star Atlas is still in its early stages, but the community is excited about this project. The roadmap indicates that the team is working on something unique, and the trailer available on their website also gives users something to be excited about.
ATLAS is trading at $0.087497, down by more than 60% from the all-time high price of $0.267549 attained on September 4, 2021. The cryptocurrency is only up by 38% from its all-time low of $0.063366 and has a market cap of around $190 million.
RFOX (RedFox) and VFOX
RFOX was developed by RedFox Labs, a tech company that is currently building a virtual space for retail purposes. The team wants RFOX to be the global leader in immersive metaverse experiences focused on retail, media, gaming, and rewards.
The project works on a dual token system, where RFOX tokens are used for buying land and virtual assets, while the VFOX is the reward token of the ecosystem. RFOX is a metaverse project to watch in 2022 because the team is not done building.
The team is currently developing numerous products, including RFOX Finance and RFOX Games. These products are designed to complement the final metaverse.
RFOX is trading at $0.080576, down by 78% from its all-time high of $0.377778. However, it is still up by nearly 600% from the all-time low price of $0.01152142. RFOX has a market cap of $115 million.
Final thoughts
The metaverse is a fast-growing area within the cryptocurrency and blockchain sector. There are numerous projects within the metaverse space, but the above-discussed coins are worth watching out for in 2022.